February 24, 2020
Understands Planet 6 Desk Stand
A practical desktop storage and support system for your iMac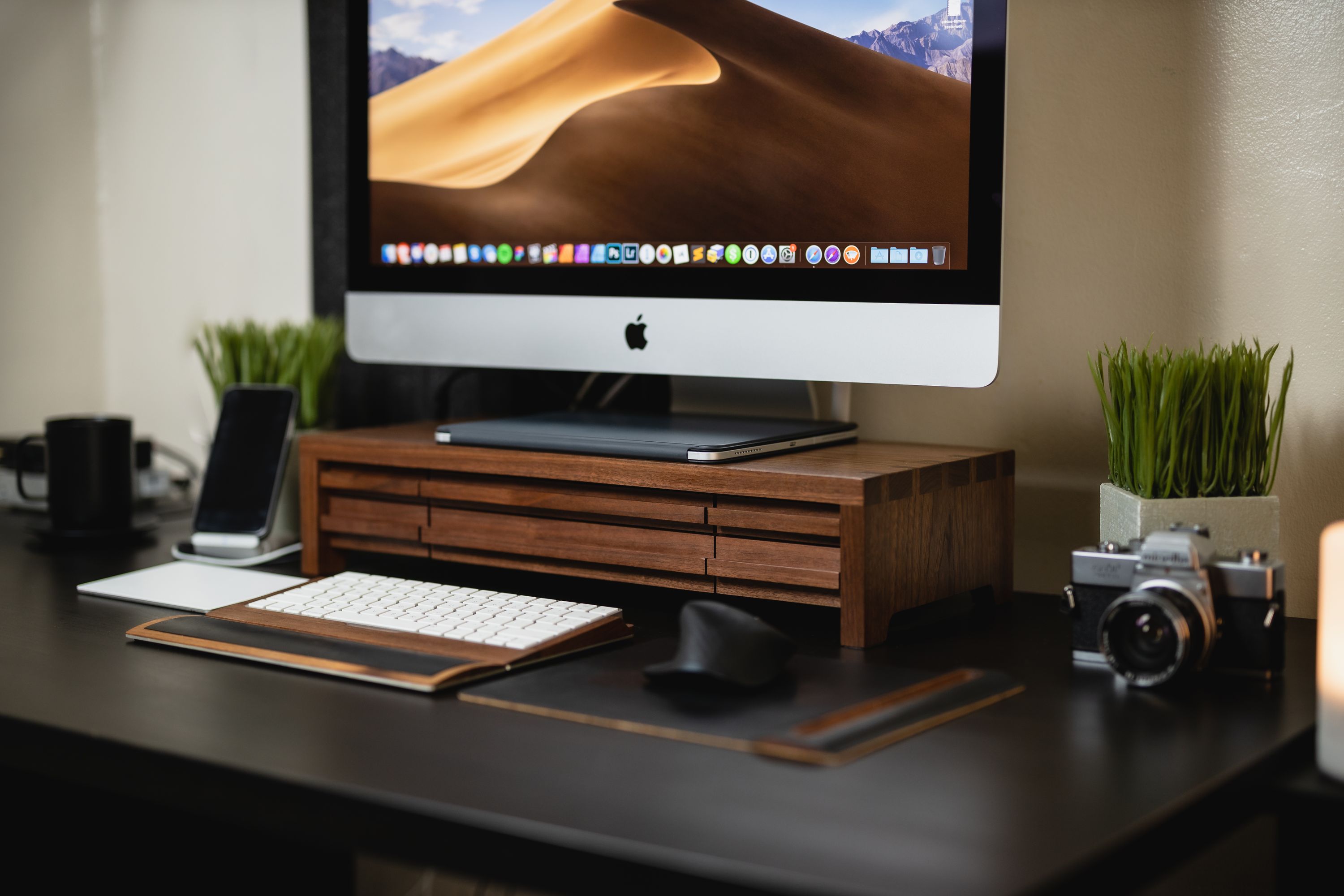 For several years now, my desktop setup has revolved around an iMac.
At the centre of that setup was a Grovemade stand that elevated the computer. The trouble was that the Grovemade stand doesn't allow for any storage, so I was happy to discover an alternative.
Over the past couple of years, I've been using a more practical option instead. It's made by Understands and it's called the Planet 6 (I got the walnut colour). This sturdy base not only holds my iMac, it also provides no fewer than six separate drawers, some cable management, and a couple of unique tricks that make it one of the best desk stands I'm aware of. The fact that it also improves the general ergonomics of using an iMac is a bonus too.
In fact, it worked its way into my setup so perfectly and seamlessly that I shamefully forgot to write about it until now. It's been such a great addition to my desk that I feel compelled to share some of my impressions, which are now backed up by two full years of daily use.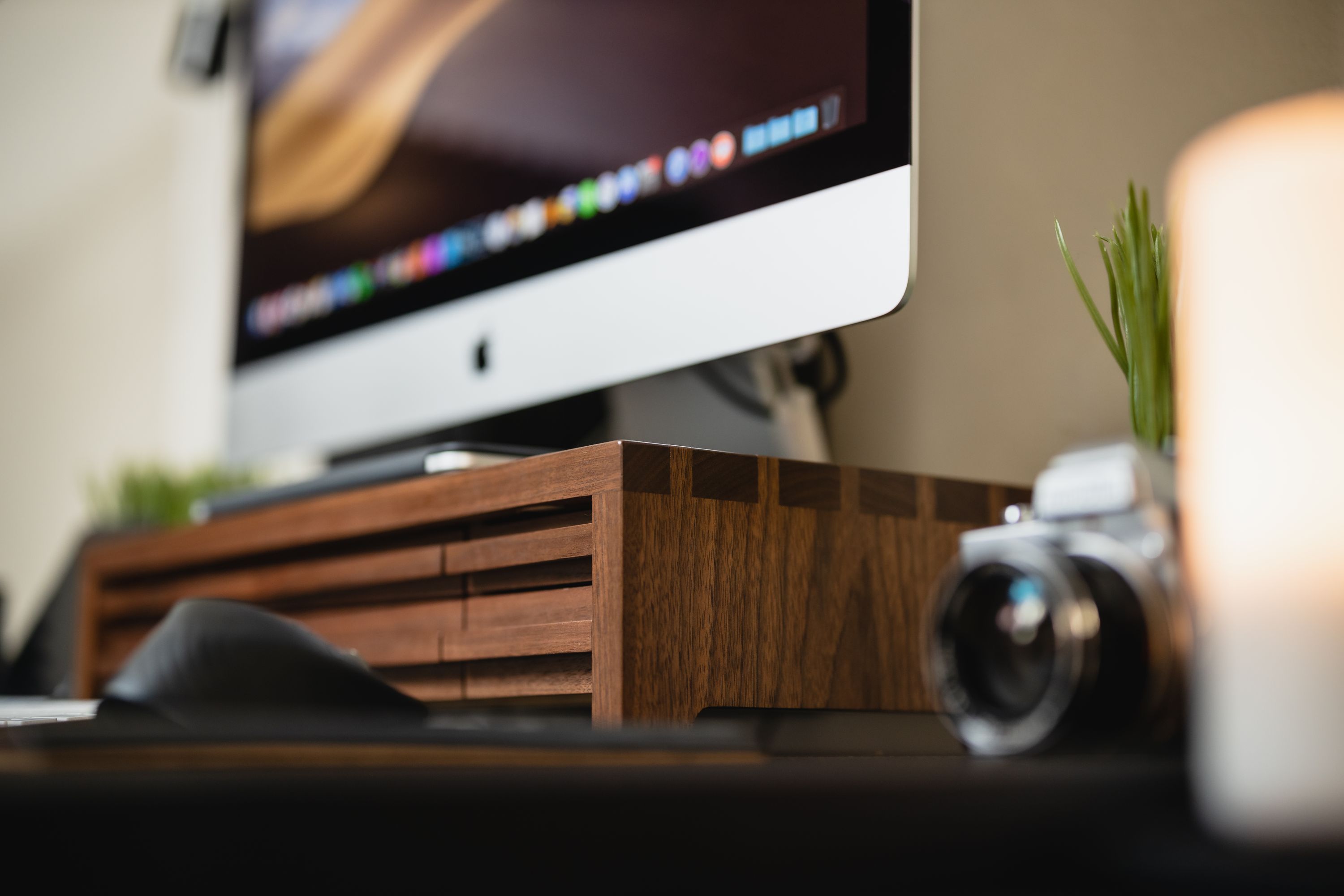 While it may lack the swoopy curves of its Grovemade counterpart, the Planet 6 gives up nothing in terms of manufacturing quality.
Mine has been absolutely rock solid and scuff-free over the past couple of years, and the drawers still open and close as smoothly as they did on the first day.
Not only is it built to last (it's weight tested to support 50 lbs—in addition to the iMac), it's also designed with a few very thoughtful touches. The rear has cutouts with fabric lining to facilitate cable passthrough in a way that minimizes the risk of the cables sliding back out. I've used these to thread a Lightning cable through the top left drawer for easy charging of peripherals, like my AirPods Pro, while they rest on top of the stand, with the cable hidden away when not in use.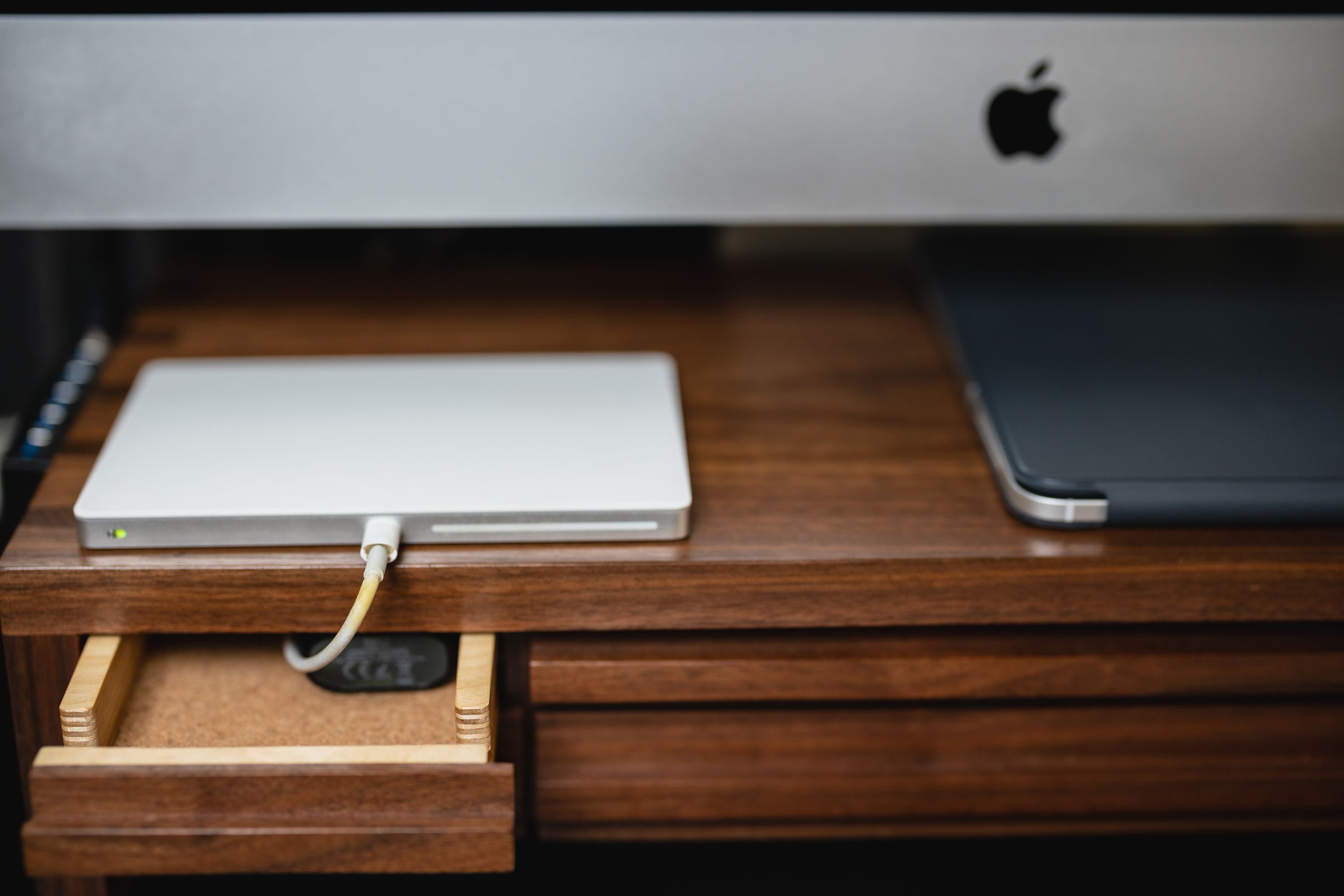 The two top drawers also hide a secret: each one has a hidden tray that drops down when the drawer is removed. These trays are perfect for tucking away more sensitive items like passports or cash where no one is likely to find them unless they know to look there.
It's safe to say that the Planet 6 is an overachiever when it comes to storage capacity. It's remarkable just how much stuff can fit into the six main drawers; I keep all of my dongles, some business cards, a notebook and pens, my AirPods and wallet, my portable charger, a bunch of USB keys, a chapstick, and more distributed amongst the various spaces.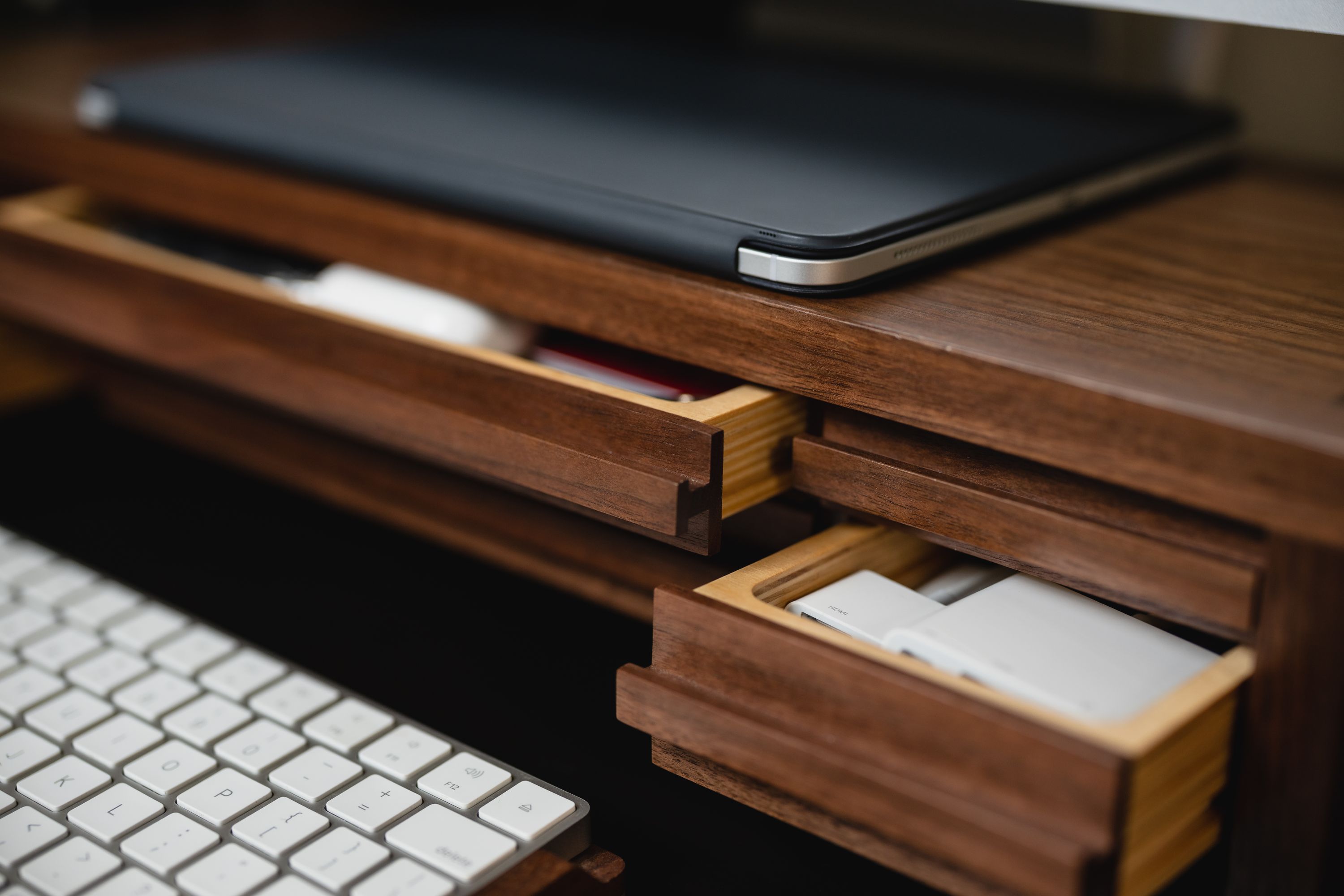 Another excellent feature is the ability to prop up your phone or table in the grooves cut out of the top left and right drawers. I don't personally use this much since I have a wireless charging stand right beside the Planet 6 for my phone, but it's a cool idea and one that might be more useful for folks who regularly keep something playing on their phones while they work.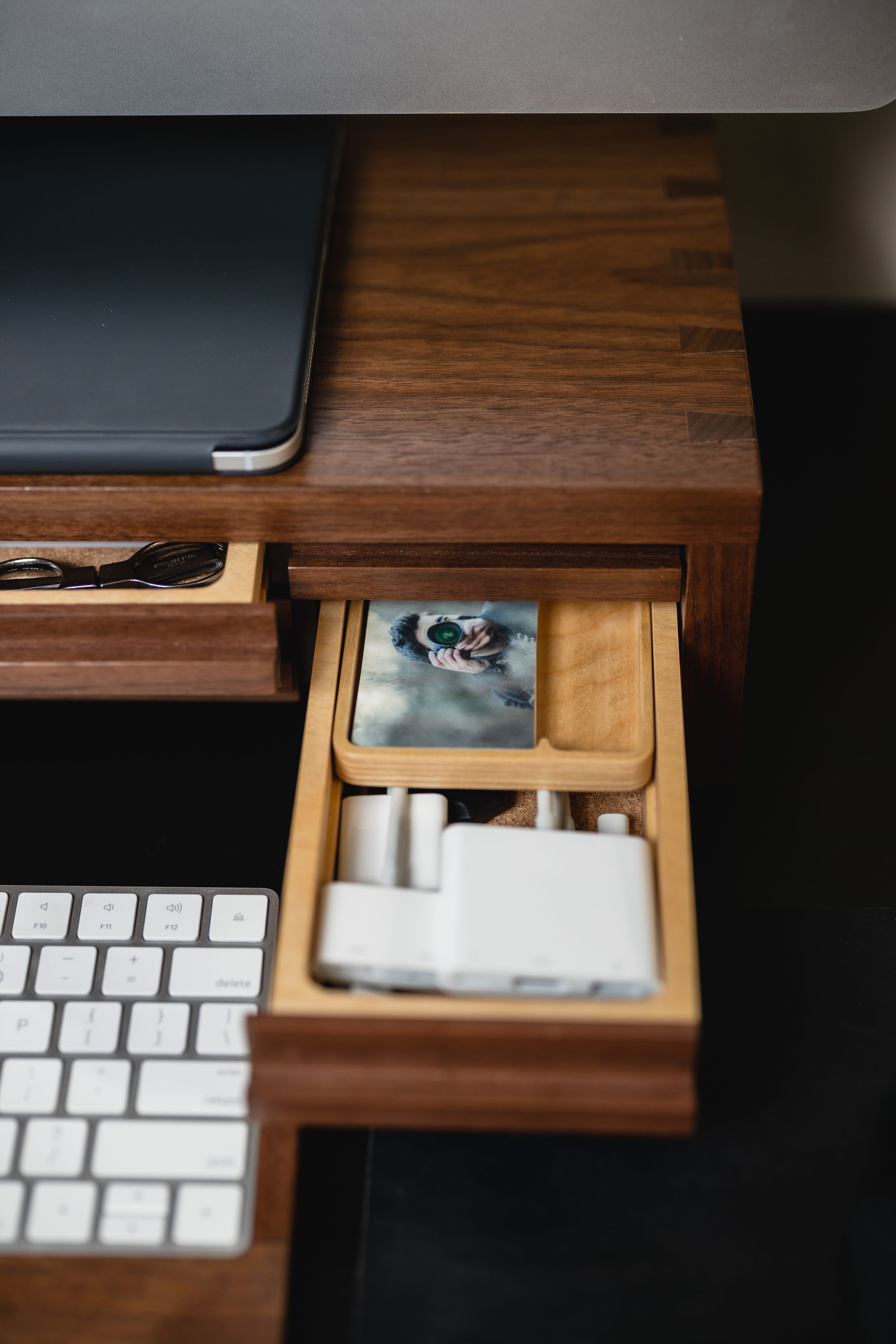 Though I have to admit that the boxy shape is less aesthetically appealing than the Grovemade, it has a few advantages even outside of the obvious ability to contain drawers. One of these is the fact that the flat sides offer a perfect surface for attaching additional peripherals. In my case, a powered USB hub for easier access to ports.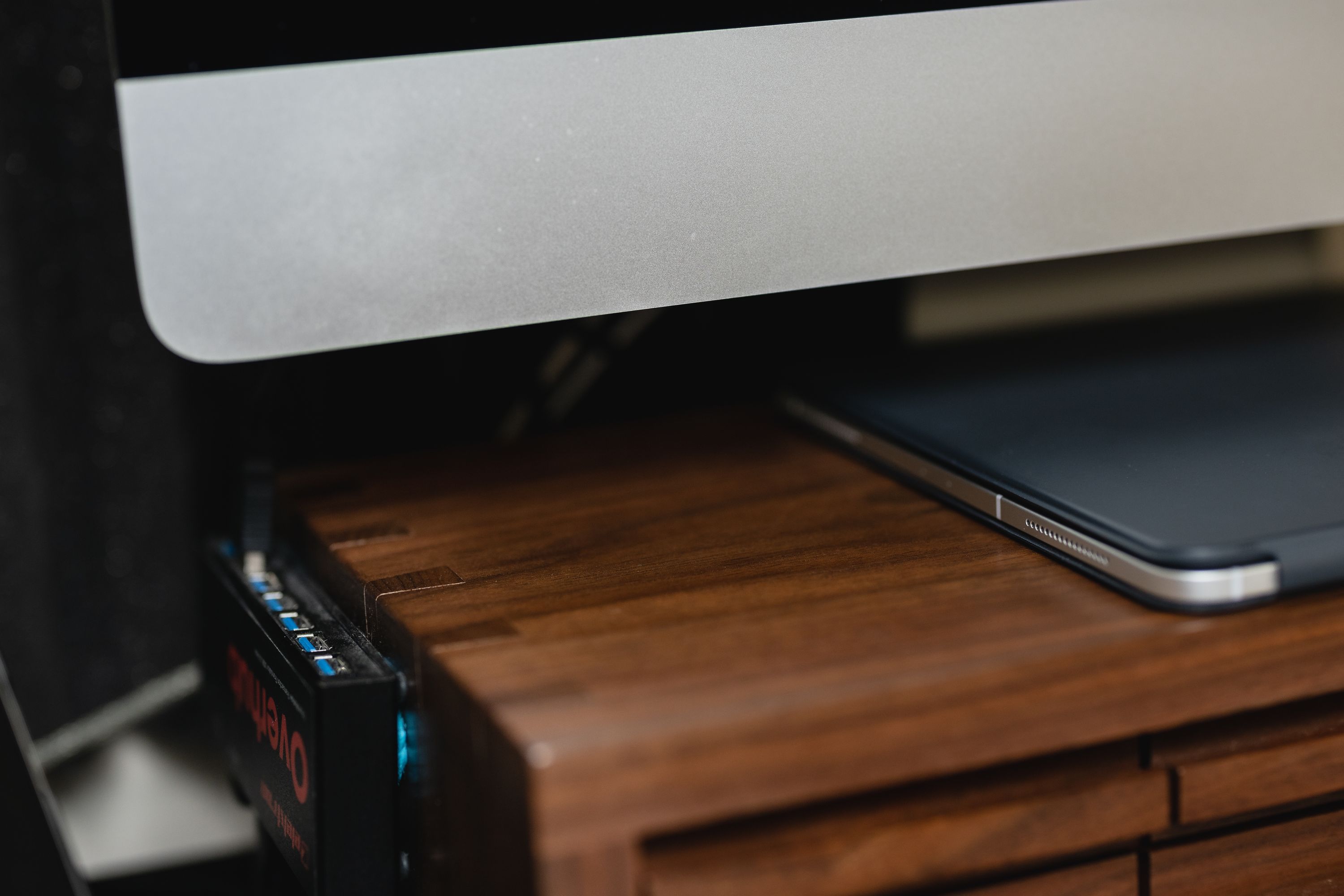 You may have also noticed that the iMac's foot doesn't actually rest on top of the stand. The Planet 6 uses an under-mounting system that allows the foot to slide into the rear of the stand's structure, leaving the entire top surface free for use.
I love this because it allows me to keep my iPad Pro there when not in use, but also because it looks cleaner when there's nothing on it at all.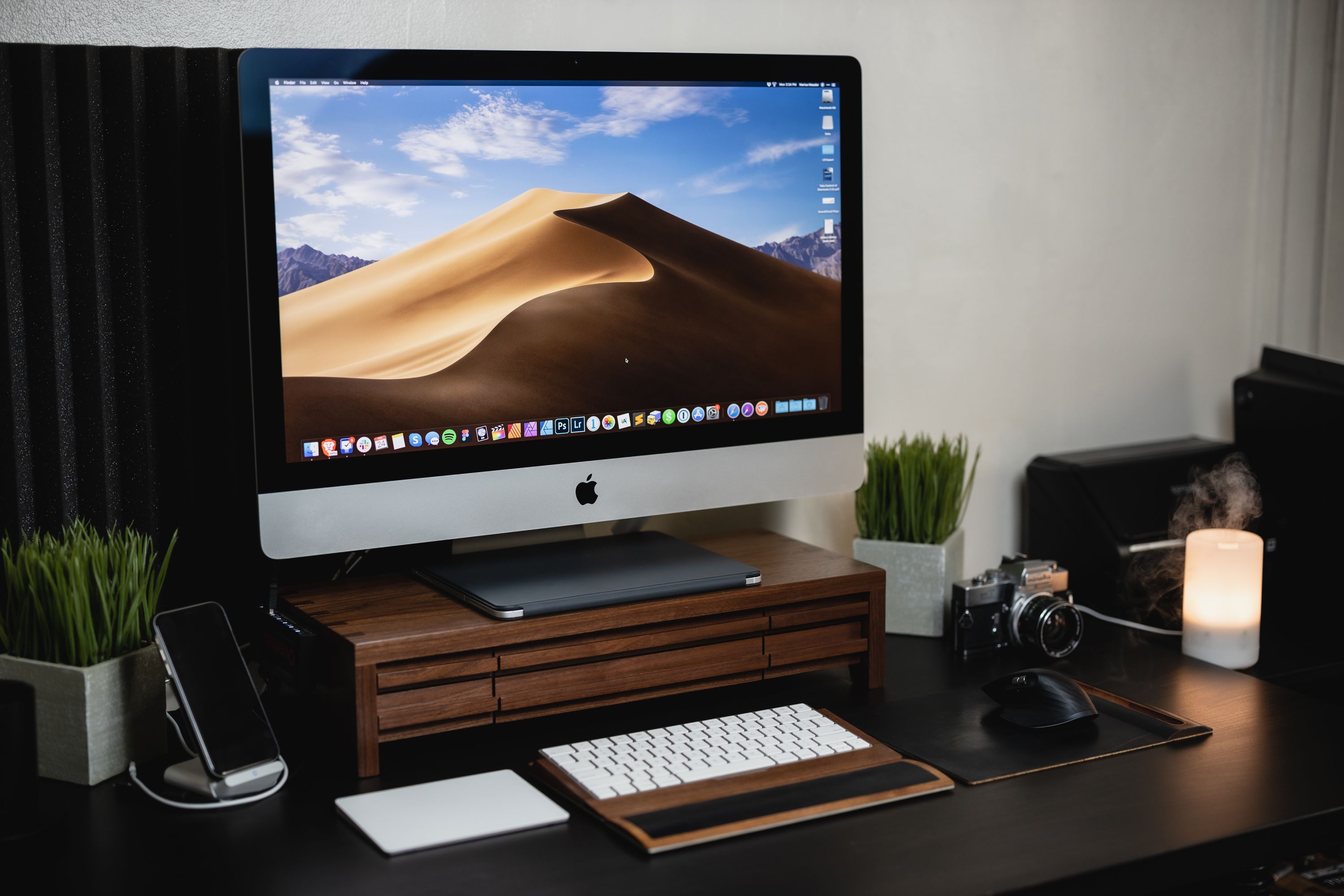 Ultimately, this is still a luxury item—there's no way around that $399USD price tag. It's a pricey piece of kit, but if you spend as much time working at a desk as I do, it may be a worthwhile investment for your space.
It's going to appeal to those who value a tidy, beautiful looking workspace and derive real productivity benefits from being able to keep clutter at bay. If that sounds like you, head on over to their site and check it out to see if it—or one of its sibling products—makes sense for your setup!
---
Did You Find This Post Helpful?
Please consider sharing it with your network!
This blog is entirely self-funded, and relies on the generosity of readers to keep things active and ad-free. If you would like to support my work, you can make a one-time or recurring donation here.
---
Previous Post
Why We Spend Our Brief Lives Indoors, Alone, and Typing →
Grappling with the role of writing in the twitchy post-truth world of the modern internet.
Next Post
Things vs Todoist in Early 2020
Comparing my favourite task managers at the beginning of a new year.