September 12, 2014
HP

Chromebook 11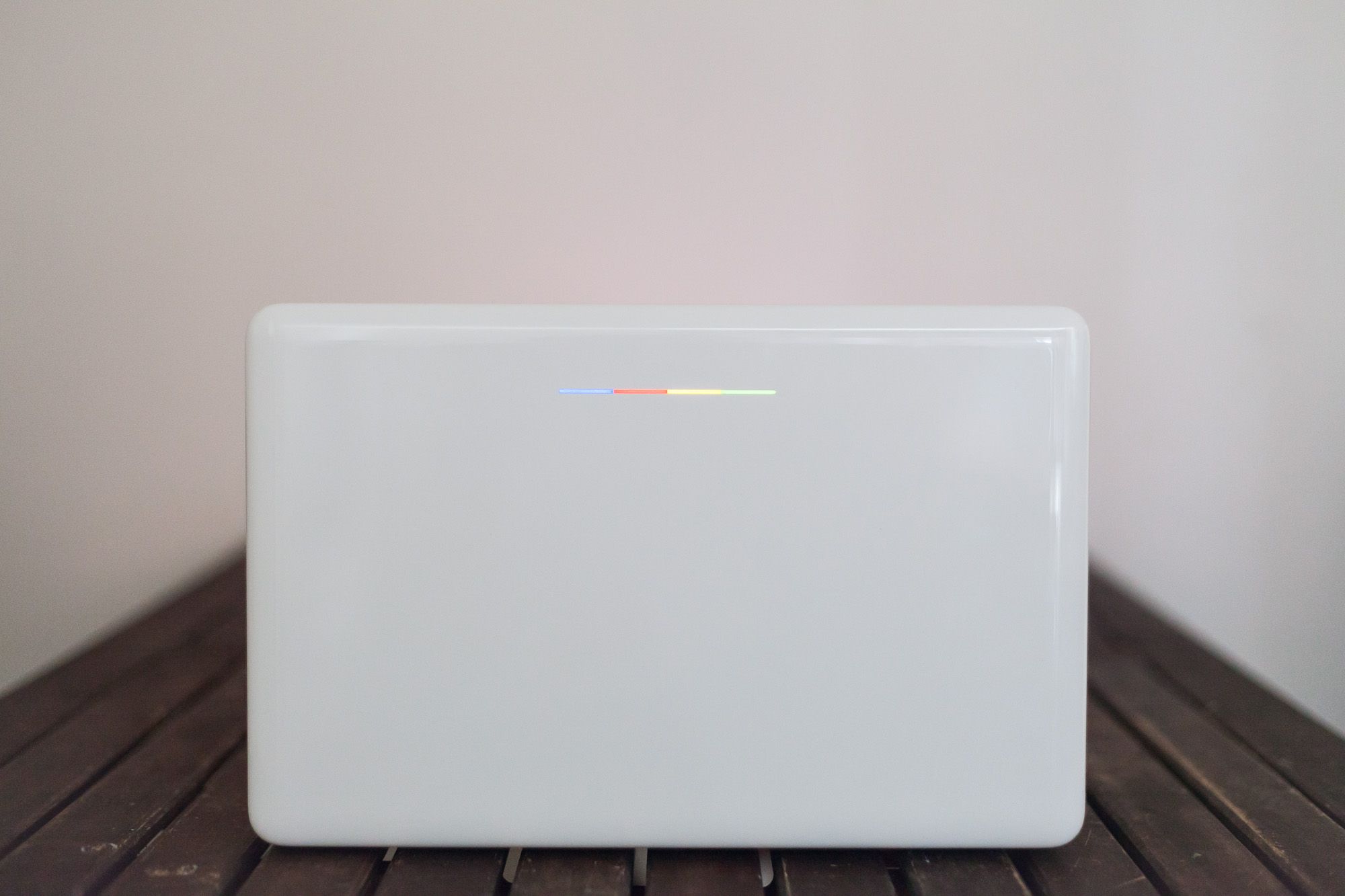 Being open-minded about technology is the first step on the road to enjoying it, so when an opportunity emerged for me to spend some time with one of the more esoteric product categories on the market—a Chromebook, and specifically the HP Chromebook 11—I was eager to do so.
I think there are many preconceived notions surrounding Chromebooks, some with more merit than others, and I was curious to see what kind of niche these unique laptops and desktops were filling. Specifically, I wanted to find an answer to the question of whether or not they represent a compelling alternative to buying a Windows netbook, or even a tablet, both of which can be obtained within the same approximate price range.
It's a good question to be asking, and Google believes that there's a place for Chromebooks alongside tablets and more "serious" computing devices. Is there?
Back to the Laptop
After spending so much time reviewing phones and tablets, it was interesting to return to the laptop form factor. Don't get me wrong, my Macbook Air is a constant companion, but the Chromebook is a different sort of laptop…somewhere between netbook and tablet in its ambitions.
Physically, the HP Chromebook 11 is a charismatic device; it is thin, light, and feels much better than most of the competing Windows netbooks I've encountered. You'll never mistake it for a premium device, but it's not trying to wow you with its build quality. If anything, the Chromebook's design seems to encourage you to stop worrying about it. You won't be tempted to put it in a sleeve, or baby it obsessively, not only because it's almost disposable at this price (compared to competing laptops), but also because its plastic shell can take a lot of abuse and attracts neither scratches nor fingerprints.
I'm using the white version with the blue band surrounding the keyboard, and I find myself delighted by the character of the design. It feels playful without being too juvenile, and the lightbar on the back is a unique and attractive indicator that you're not using the same device as everyone else at your local coffee shop. Believe me, it provokes many a double-take and questioning look, despite being less dynamic than its counterpart on the obscenely priced flagship, the Chromebook Pixel.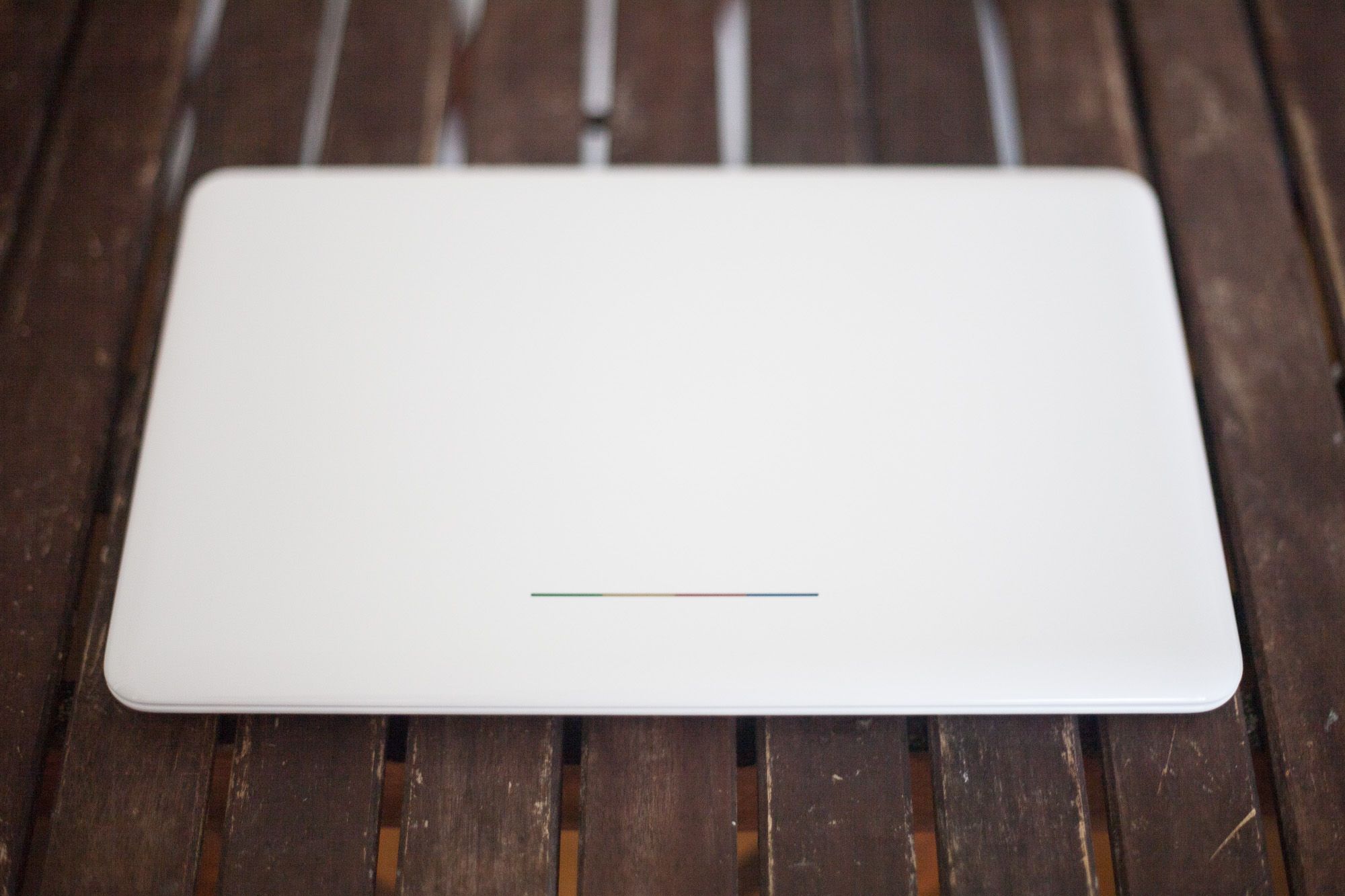 Hardware: Interaction and Battery Life
Speaking of the keyboard, I was surprised to discover that it's among the best laptop keyboards I've ever typed on. At this price, I was expecting mediocrity, and while it doesn't have the same satisfying response as higher-end machines, the Chromebook 11's chiclet keys are comfortable, light, and full sized. In fact, the only complaint I have is that the arrow keys are shorter than I'd like. That, and the keys aren't backlit, although I didn't expect them to be given the price point.
On a laptop, the keyboard is one of the three most important physical attributes, alongside the trackpad and screen. These three are the primary means of interaction, so if they aren't good, the rest of the experience suffers. In the case of HP's Chromebook 11, the other two sides of the triangle are nowhere near as satisfying as the keyboard.
The trackpad, while comfortably sized for a netbook, isn't that great. Responsiveness isn't bad, but there's a stilted, jerky feeling to it that doesn't inspire confidence and limits precision. It feels like you're making very coarse adjustments, and on a small screen that takes some getting used to. If you're familiar with Apple's trackpads, which remain leaps and bounds beyond most others in execution, then the lack of smooth motion and absence of many useful gestures makes the trackpad feel less functional.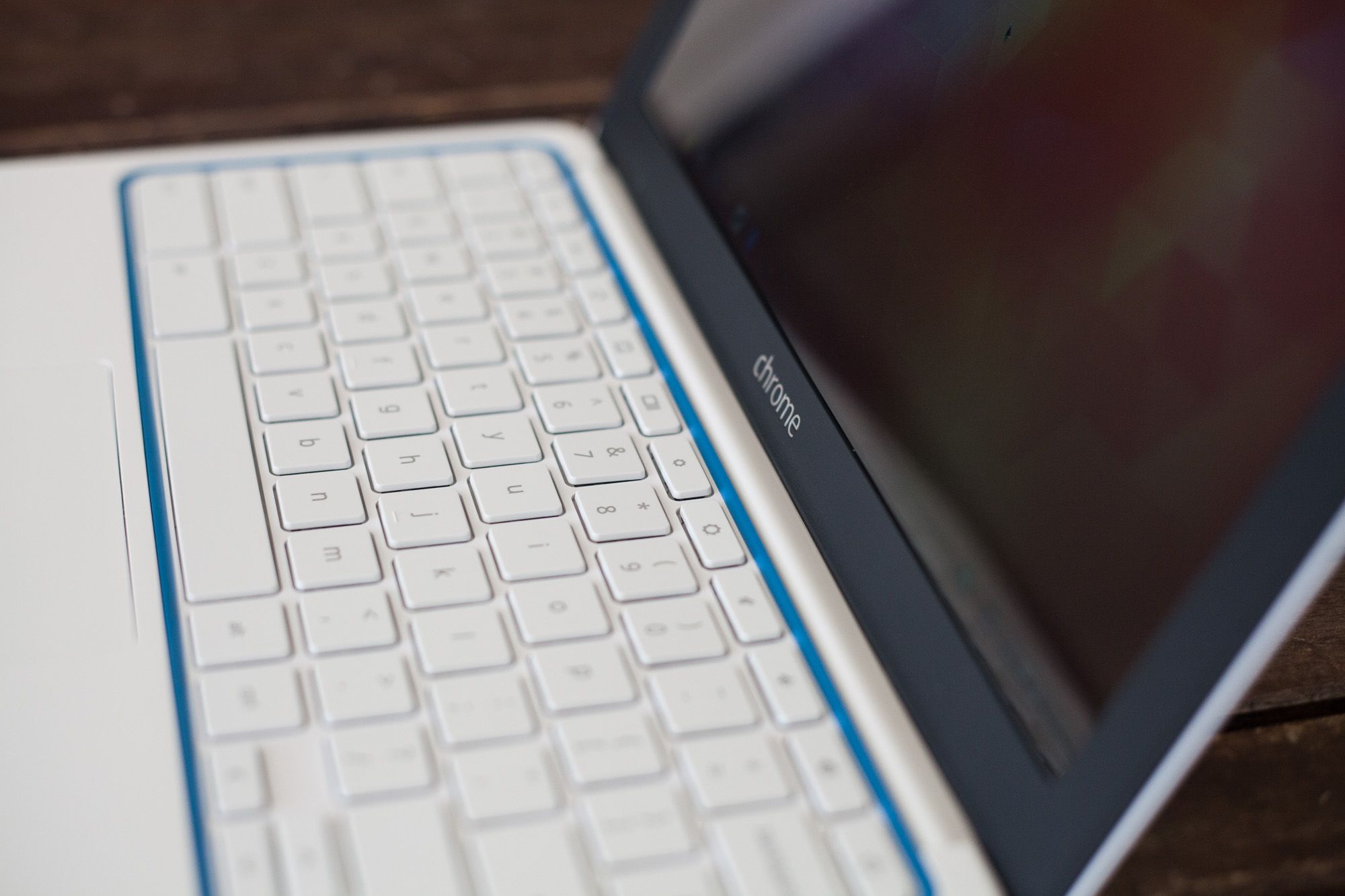 Many reviewers have come down hard on the quality of the display, not only on the HP models, but on Chromebooks in general (the Pixel once again excepted). It's true that one of the major areas where costs are cut is in the display technology, and the Chromebook 11 is no exception to this rule. However, rather than siding with everyone else, I want to propose that the screen is perfectly adequate for this device's ambitions. Not only that, but compared to the other Chromebooks with 1366 x 768 displays, the HP Chromebook 11 actually has great colour reproduction and vivid contrast.
Would it be nice to have an HD panel with wider viewing angles? Sure it would—even without touch support. But on a device that's primarily being used with the viewer right in front of it at arm's length, and almost always indoors close to an internet connection, I'm willing to excuse the manufacturers for choosing a lesser display.
What I'm not willing to excuse is the abysmal battery life on the HP Chromebook 11. Six hours of basic usage is simply not sufficient. If Google wants to convince students and businesses that this is their ideal portable work machine, then it has to be able to last through a day of use at the very least. Any of its tablet competitors can.
Ports and Peripherals
Where the HP Chromebook 11 really gets interesting is in the selection of ports. The two USB ports and basic audio jack are joined by a MicroUSB port that serves as the charging point. This is not only unique to this Chromebook model, but is also a remarkably clever choice that ensures you're very unlikely to find yourself in a situation where you can't find a charger—even if you've forgotten the one that comes with it.
Not only is it the same charger that works for the majority of Android and Windows smartphones on the market, but it also features SlimPort functionality so it doubles as a display port…which brings me to the first piece of bad news.
External display connectivity sharing the same port as charging means that you can't really do both things at once: you're either using an external display, or you're charging the laptop. In fact, it is possible to do both at once, but it requires the purchase of an additional adapter and isn't always reliable.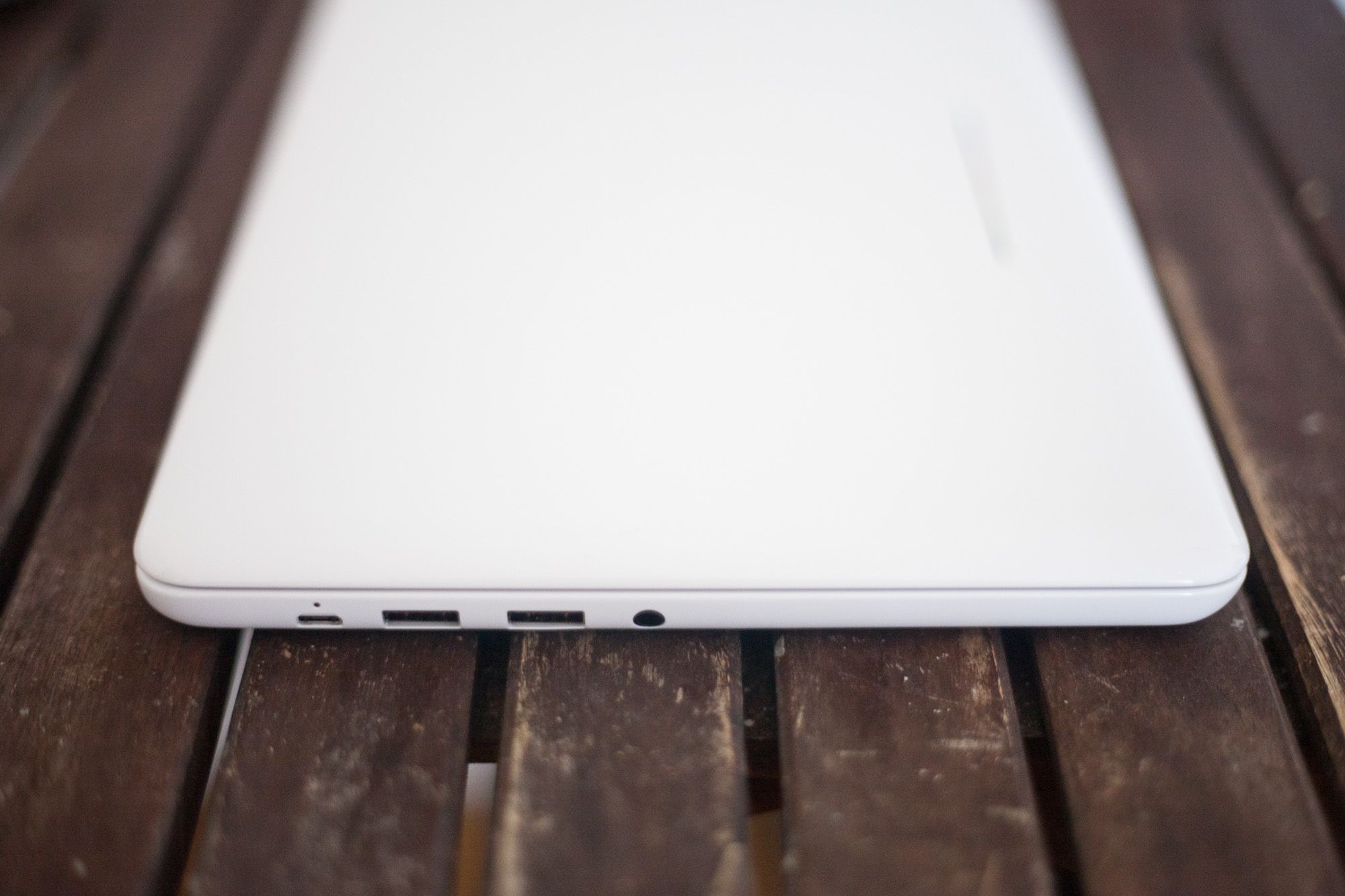 With that awkwardness aside though, the connectivity situation is more seamless than you might expect. Peripherals like a mouse or external drive work without issue, but the same cannot be said for printers, which brings me to my second connectivity complaint.
Unlike most Windows, Mac, and even Linux machines, a Chromebook can't communicate with printers except through Cloud Print. Now, Cloud Print is a fantastic technology, a convenient one, and a fairly flexible one, but if your printer isn't natively compatible then you're going to run into some annoying roadblocks.
Specifically, any "classic printer" that you add to Cloud Print will be available for printing only when the machine that it's plugged into is on and connected to the internet, and only after you've enabled a connection utility via an installed copy of Chrome. In other words, you can't use a classic USB printer with a Chromebook unless you have another computer in the house. Admittedly, this is a less and less common scenario, but for those to whom it applies, it could be a deal breaker.
Chrome
OS
On my Macs, I recently switched back to Safari after several years of using Chrome. The motivation was simple really: speed. By speed I don't just mean page loading speed, but responsiveness of interface too.
Especially in recent years, it's felt as though Chrome has been getting more and more sluggish, even grumpy when I wake it from its slumber. Not even a clean cache energizes it much. As you add extensions into the mix, the result begins to feel decidedly unresponsive until it finishes loading everything, by which time I've been able to look up the information I was after on my phone, make a coffee, etc.
And yet…Google knows that Chrome has outgrown its humble browser beginnings, and this is where Chrome OS enters the picture.
While Chrome as a browser feels bloated and ungainly, Chrome as an operating system feels streamlined and entirely more appropriate. It's a matter of perspective, of course: ten seconds for a browser to load and be ready to go feels like an eternity, but for an operating system's boot estimate it suddenly seems snappy.
Tying everything to your Google account allows them to offer some smartphone-like conveniences for a laptop. Setup is quite literally as simple as signing into your account—everything from apps, extensions, passwords, bookmarks, and favourites are ready to go as soon as the initial sync completes.
Plus, other users can sign in with their own Google accounts and all their stuff is available just as easily, making multiple accounts very easy to set up and manage. Not only that, but you can set up Supervised Users with monitored browsing, or enable Guest Mode to let anyone use your Chromebook for basic browsing without having access to your files and apps.
This capability alone makes Chromebooks a better choice than most tablets for scenarios where multiple users and easy device sharing is beneficial.
Beyond the conveniences of quick setup and multiple users, Chrome OS is also an attractive and intuitive operating system that should be easy to grasp for anyone. This is important because Google sees it as a potential first laptop for students, as well as a cheap work machine for the modern workforce. Saving money on buying tech means very little if you have to spend the balance teaching everyone how to use it.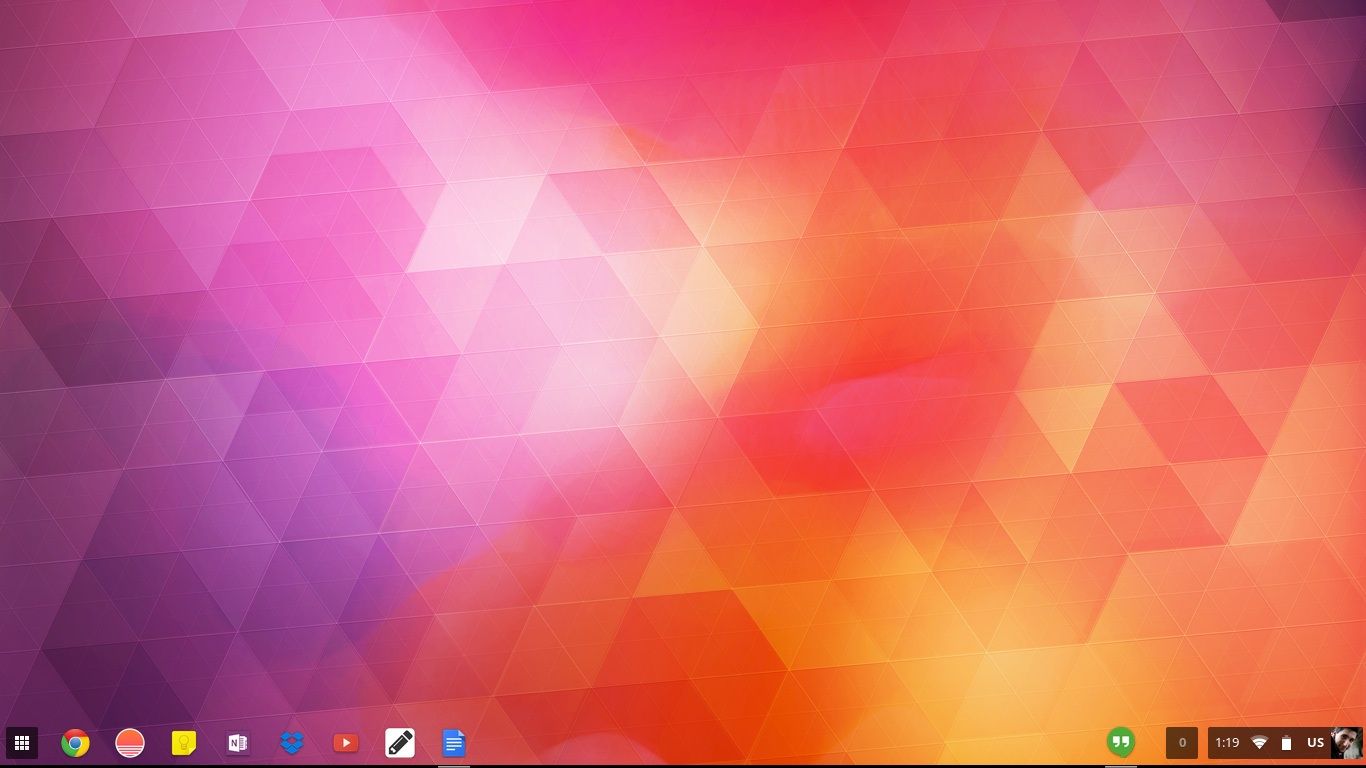 The app launcher is very phone-like, but in a good way, and is positioned right where Windows users will expect to see their Start menu. Settings and toggles live in the opposite corner along with a robust welcome/help app that does a terrific job of introducing users to their new machine.
I was particularly appreciative of the smaller details of Chrome OS's design; for instance, the way the shelf (Chrome OS refers to the bottom toolbar as its shelf) dims smoothly when you're browsing to minimize distraction and keep the focus on the page you're looking at, or the way Hangouts conversations minimize to the right half of the shelf instead of an icon on the left, to help keep your communications accessible when you have lots of other things open.
Google has clearly spent a lot of time refining the details, which is why it pains me to encounter a certain bone-headed mis-step that makes using the Chromebook more annoying than it should be.
The Password Problem
For me, the ugliest fly in the ointment was the login system. Because your Chromebook user account is your Google account, logging in requires typing your password. For people with minimal security, this isn't going to be an issue, but anyone who values their privacy will be using a password manager and 2-factor authentication on their Google account.
This means that I have to pull out my phone, open 1Password, and then painstakingly transcribe the monstrous password securing my Google account from the phone into the Chromebook. I don't mind doing this the first time I log into the machine—it's normal and to be expected. But try to imagine doing the same thing each and every time you turn your Chromebook back on.
Getting around this requires a total security compromise: disabling the "Require Password After Sleep" option in settings and then putting your Chromebook in standby instead of shutting it down when you're done using it. That way, when you pop the lid open again, it picks up right where you left off. Naturally, if you're not the one opening that lid back up, then someone else will be picking up right where you left off…with all your data and apps easily accessible to them.
Could there not be a middle ground here? The beta channels have had a flag to enable easy unlock via device pairing, but it hasn't been activated yet, and completely omits users who use Google services but not Android devices. And even if my iPhone could work, it still means I need my phone to get into my Chromebook! Instead of requiring a second device, wouldn't it be nice to have the option to set a login PIN of some sort?
Passwords in general were the most frustrating aspect of using the Chromebook for me. Since my passwords live in 1Password rather than Chrome, I needed my phone to log into each and every website and service, painstakingly transcribing hieroglyphs each time. 1Password works on Chromebooks only using the 1Password Anywhere system of accessing an HTML file in your synced Dropbox folder…but it didn't work reliably when I tried it, often coming up with nothing but a blank page.
This is, of course, down to my own choice of services and not explicitly a fault of Chrome OS or Chromebooks. Users of other password managers might have an easier time, and those who trust Chrome's own system to save all their passwords will have an even easier experience. The one problem that does exist for any Chromebook user with a strong password is the main account login between sessions. Once that easy unlock becomes available or a PIN system is unveiled, convenience and security will balance out nicely.
Apps and Functionality
1Password was a good example of the kind of app that Chromebooks don't handle very well. Being restricted to web apps is a revealing experience because it not only shows you how far web technologies have come, but also reminds you of how far they have yet to go before they can truly replace desktop environments for all use cases.
For designers, musicians, etc. a Chromebook will feel very limited—my iPad is vastly superior as a tool for music production, recording, sketching…anything, really. For basic productivity tasks though, and for any web browsing needs, a Chromebook is a remarkably good solution.
Google Docs (and Sheets and Slides) have matured very impressively over the past couple of years, with new feature roll-outs being both frequent and exciting. One of Google's biggest struggles is convincing people to move away from Microsoft's ubiquitous Office and its native file formats. While the Drive apps do a fairly good job of translating basic documents back and forth from their Office equivalents, the real battle that Google has been waging is eroding Microsoft's hold on basic users.
While Microsoft has now fully unleashed its Office Online offering, which competes with Google Docs for the web productivity space, Google Docs has captured the hearts of students and businesses around the world who got tired of waiting for Microsoft to catch up. This is great news for Google, and they've been quick to capitalize on the attention, releasing a powerful learning management system called Classroom for educational users and their students, and even touring US schools with a Chromebook Lending Library to give students an opportunity to spend a week with their devices for free.
Students also benefit in more practical ways, like a research module that ties into the full prowess of the Google search engine, making linking and referencing laughably simple. Similarly, Google Translate is integrated, so basic language operations are seamless. Docs also ties into the library of free Google Fonts and supports styling, ensuring document design is both simple and transferrable.
I could go on about autosave, native file versioning, industry-leading collaborative functionality (real-time or suggested edits), and so on but suffice it to say that I have no trouble believing that Google Docs could replace Office given enough time and continued momentum.
Of course, there's more to apps than productivity, and this is where Chromebooks have been divisive. Games are actually fairly well represented, though they're usually too demanding for basic Chromebook hardware, and the Chrome app store has a wide range of different tools for communicating, making things, learning, writing, etc.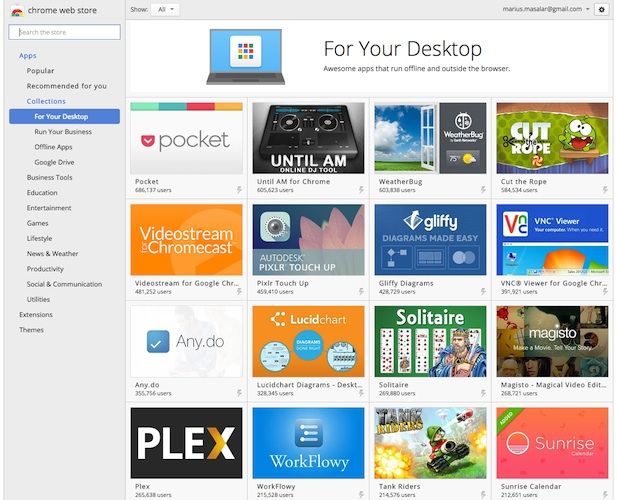 The problem is that the line between "App" and "Extension" is not always clear, especially not to a new user. Something downloaded from the App Store may be called an App, but it's often nothing more than a link to the respective website of the service. Apps open in their own window, but then anything from the launcher can be right-clicked and told to do the same. It's a bit messy, but one thing that the Chrome app store has going for it is good quality control. Unlike the Android equivalent, browsing the Chrome app store rarely reveals any spam apps or obvious crap—this inspires confidence and I hope Google maintains this level of cleanliness.
On the topic of Android apps, the next chapter in the Chrome OS saga happens to be unfolding before our very eyes as Android apps have begun rolling out to the platform. This means that you'll now be able to access and use a select number of Android apps natively on your Chromebook. The selection is meagre for now, but if users adopt this then it could truly revolutionize the capabilities of Chromebooks and what we expect to be able to use them for. I'm optimistic about it.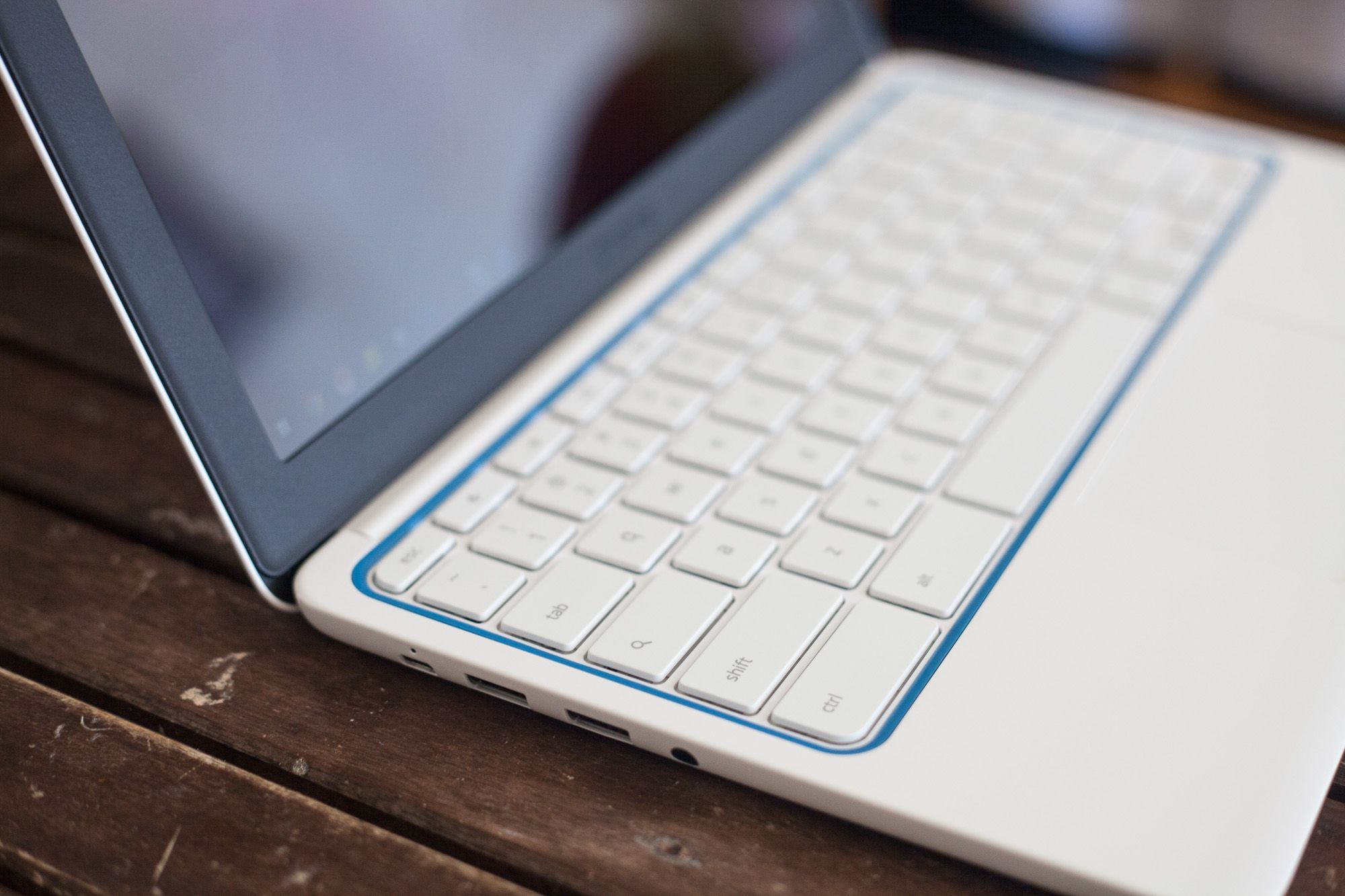 Conclusion
Chromebooks are clearly optimized for those who live in Google's services, but what surprised me was how useable they can be even for those of us whose allegiances are more widely spread.
Before using one, I didn't quite grasp the potential for change that these devices offer to small businesses, schools, and family users, but I'm delighted by what I've experienced and won't hesitate to recommend them to those who need reliable machines for basic business tasks, for students especially, or even for writers like me who want a terrific machine for working without distraction or worry that it might get scuffed or stolen.
Google has a vision of Chrome OS being the ultimate lightweight productivity operating system, and in most respects I believe this to be true. Unfortunately, the reality remains that hardware in most Chromebooks hasn't been showcasing the full potential of the operating system; many times, underpowered processors and insufficient RAM have left Chromebooks gasping for air as the tab count climbs past ten. While we're approaching the days when even cheap silicon is capable of running Chrome OS smoothly under load, we're not there just yet.
In the meantime, Google is stuck in the uncomfortable position of trying to establish Chrome OS as a compelling, and especially an affordable computing system, but the balance between cost and capability is a difficult one to set, and for now Google has struggled to find the sweet spot. We've seen cheap hardware on which the OS struggles to impress, and we've seen exceptional hardware at eye-watering prices, with very little of merit in between.
The question remains: why would someone buy a Chromebook over a tablet or netbook? My time with the Chromebook proved to me that the trouble isn't so much in having a good answer, but in communicating it to the masses. The laptop form factor is convenient and familiar, and the deep integration with Google services makes it superb for those whose digital lives revolve around them. At this price point, it does just enough to make it eminently useful without seeming like an extremely expensive app machine.
Within its limits, The HP Chromebook 11 is a nearly perfect device. It is comfortable, attractive, portable, and capable. It is the most "Google" of the Chromebooks, even more so than the Pixel since it's actually accessible to anyone. Businesses running on Google Apps owe it to themselves to try a deployment of Chromebooks instead of tablets for their mobile users, and as great as iPads are in the educational space, I'm beginning to see that Apple's lead will slip if they don't address the looming Chromebook threat.
Chromebooks cast a wide net, but those caught in it will be held fast.
---
Did You Find This Post Helpful?
Please consider sharing it with your network!
This blog is entirely self-funded, and relies on the generosity of readers to keep things active and ad-free. If you would like to support my work, you can make a one-time or recurring donation here.
---
Previous Post
GoodTask vs. Clear
Next Post
Fuji X100S Review