August 17, 2016
Meet the Kobo Aura One
Kobo's New Flagship Leapfrogs Amazon's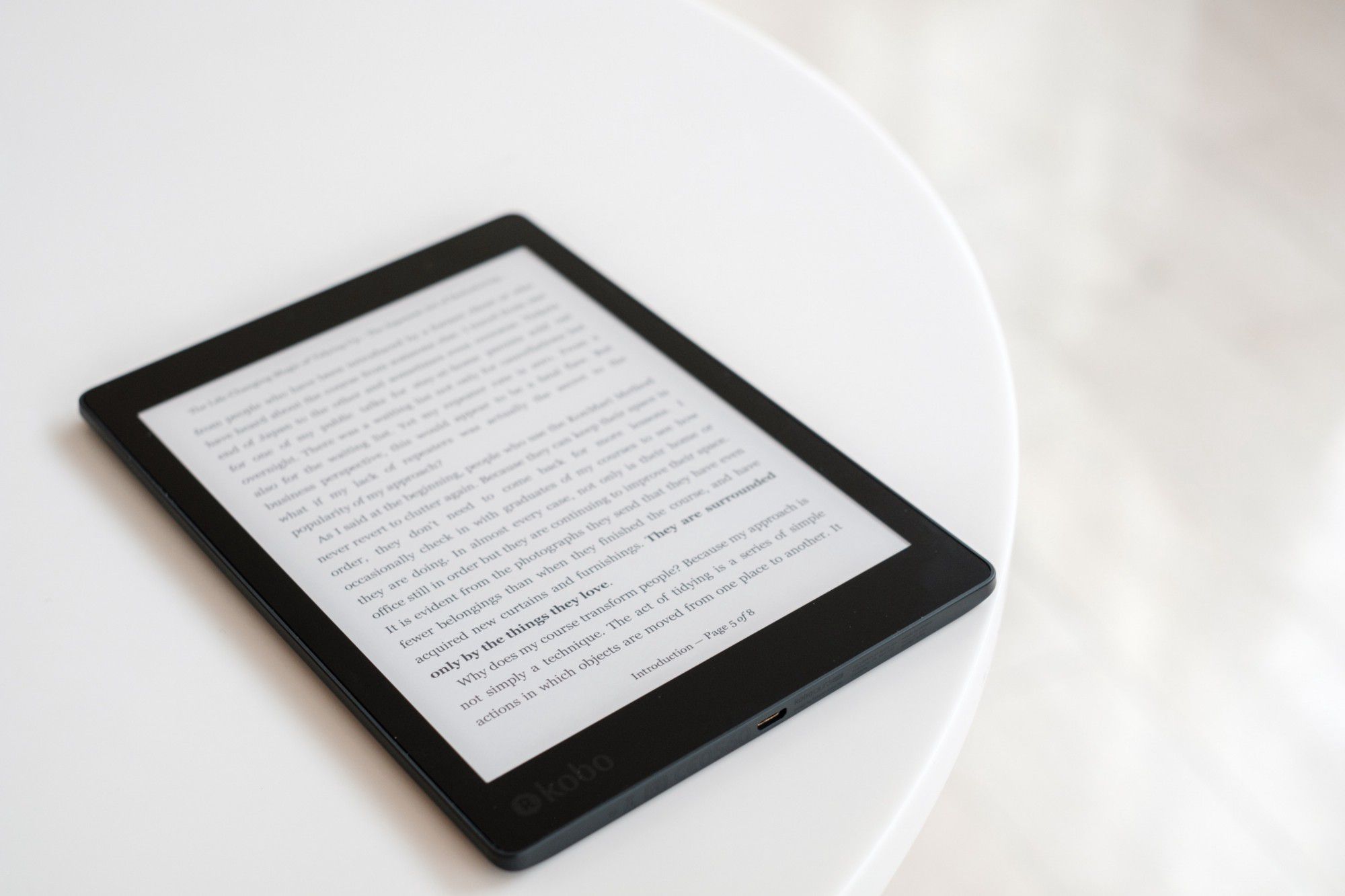 At an event in downtown Toronto this morning, I watched Kobo's CEO unveil their contribution to the high end e-reader market, the Kobo Aura One.
It enters the fray alongside the Kindle Oasis, which leaves us asking once again: which is better? Kindle or Kobo?
I've got my hands on both devices and am hard at work on a brand new deep-dive comparison (as well as independent reviews of both e-readers), but in the meantime I wanted to introduce you to the Aura One. Its thin and unassuming appearance belie a number of key improvements that neatly leapfrog Amazon's. Kobo's advances are built on three main pillars: screen size, colour temperature adjustment, and library integration.
Bigger is Better
In the early days of e-readers, Amazon released an experimental Kindle DX with a massive 9.7″ e-ink display. It didn't sell very well and was never updated, but it sparked a fire under some readers who preferred the larger screen.
Those folks are going to be thrilled with the Aura One. While it's not quite 9.7", the Aura One's 7.8" e-ink Carta display is marvellous. When I reviewed the Aura H2O, its predecessor, I said the screen felt expansive compared to its stubbornly 6" Kindle cousins.
At this point, the screen is the best on the market, bar none, full stop. It matches the Kindle line-up's 300ppi pixel density but dwarfs them in screen real-estate.
The most immediate benefit? Fewer page turns.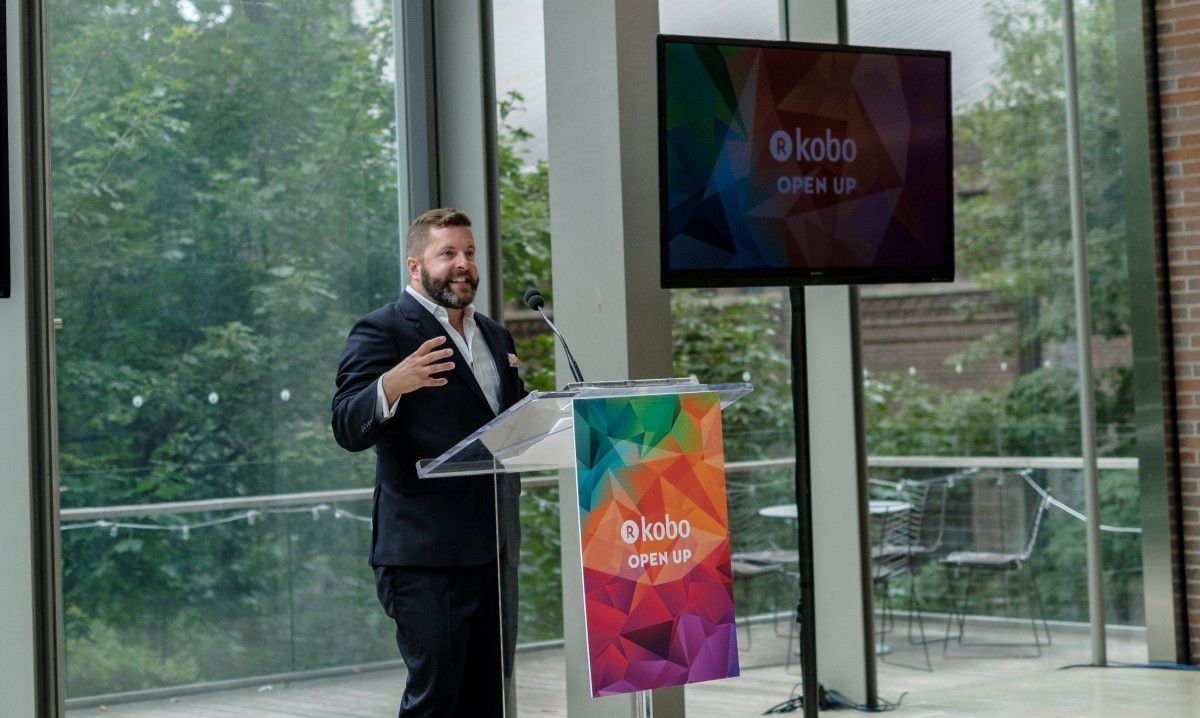 "Turns out it weighs about as much as a cupcake." Michael Tamblyn (Kobo CEO) keeping it real during the announcement.
Best of all, this larger screen doesn't bulk things up too much. It's still easy to slip the Aura One into your bag wherever the H2O would fit. In fact, the Aura One is the thinnest and lightest Kobo device they've ever made, squeezing in at just 3 grams lighter than the H2O.
Thinner bezels and a flush glass screen give the impression of a dense but comfortable build, and a much-improved texture on the back makes it easy to hold onto even if your hands are wet (the Aura One is, of course, still waterproof).
ComfortLight Pro
For years now, myself and others in the review community have been asking for an update to the front lighting system that takes into account colour temperature. Amazon continues to ignore the suggestion, but Kobo has listened: the Aura One features an adjustable colour temperature that helps ease eye strain in the evening. It adjusts automatically based on time of day, but you can also manually override it. It's worth noting that the brightness has also gained the ability to adjust itself automatically, which is a feature I loved on the Kindle Voyage and missed on the Oasis (which removed the functionality in favour of keeping the size down).
Amazon famously claims that the Kindle is built for readers, but recently it seems like Kobo is the company actually fulfilling that promise.
OverDrive and Library Integration
There's no better example than the Aura One's new public library integration via OverDrive (also owned by parent company Ratuken).
OverDrive is the technology powering most library systems, and Kobo has made borrowing library books absolutely seamless. After logging in with a valid library card, you can place holds, borrow books, renew loans, and of course purchase books without leaving your Kobo device.
What used to be a 14 step process (they counted) is now down to just a few taps.
Review Incoming
There are other important enhancements too—double the storage, better waterproofing, a faster processor, etc.—but as always I'm reserving judgement until I've spent a proper amount of time evaluating the product in real-world usage.
Until then, don't hesitate to fire away with questions and I'll do my best to answer them or address those points in the review!
---
Did You Find This Post Helpful?
Please consider sharing it with your network!
This blog is entirely self-funded, and relies on the generosity of readers to keep things active and ad-free. If you would like to support my work, you can make a one-time or recurring donation here.
---
Previous Post
Every Man's Sky
Two Broken Promises and a Dream Come True
Next Post
Improving Ulysses
My Favourite Writing Environment Keeps Getting Better